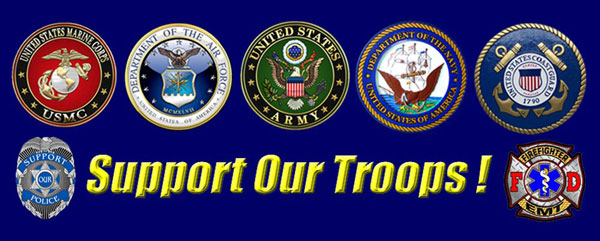 American Mystique Shipping For USA & International
Veteran Owned & Operated!
Please Note - American Mystique & The Flight Deck do not Sale or promote the Selling of Customer Emails and Customer Information. Neither does Big Commerce or any of our Suppliers.
All U.S. Continental Orders over $150 have initial Free Ground Shipping to the Billing Address. For purchases that do not qualify for Free Ground Shipping, Please Take advantage of our New UPS Special USA Ground Shipping Rates. Your Insurance and Delivery Signature are all calculated for You.
We ship to the "Billing Address Only" on the Transaction for Customer Security and Customer Information Protection. Signature Delivery and Insurance are mandatory on items.
Items are normally shipped by Ground Carrier within 2 to 4 days with an official Carrier Delivery window of 4 to 10 days (pending weather conditions). We provide the lowest rates allowed by UPS shipping within our shopping cart.
** Why We ship Your Purchase directly to You at the Billing Address:
This prevents a lot of Credit Card Fraud, and protects "YOU" the Buyer and helps greatly in protecting your Credit/Debit card information and your PayPal information!

This also insures Your Purchase is delivered by the Carrier to your residence and not sent somewhere else by someone using false information or stolen information from your Card or Identity theft.

Please note we do not ship to P.O. Boxes.

Even if the P.O Box is the Billing Address

. You must use a physical Address for delivery.

American Mystique refuses to ship to Motels, Hotels, Tarmacs, PO Boxes or any other form of Mail Boxes or some alternate business.

Our intention is the prevention of 'Walk-Away Theft' at the door.

All Return and Exchange Shipping is the full responsibility of the Customer and Must be accompanied by a Return Authorization Number issued by American Mystique. Exchange Shipping is subject to be charged to the Customer.

Any Item or Items purchased through Free Shipping or a Special Shipping Promotion, will receive the Qualified Free Shipping if the Order is over $100.00 from American Mystique. Refund for Returns will be issued to the Buyer only and items costing over $150.00 are subject to be Charged for the cost of original shipping fee incurred by American Mystique. Any and all shipping Fees are Non-Refundable.

Insure your return as American Mystique claims no responsibility for Carrier Delay or Loss during shipment.
Shipping Carrier Notice:
Deliveries are Signature Required with no exceptions.

Americanmystique.com assumes no control over Shipping Carrier policies, practices, and/or actions and assumes no responsibility for Shipping Carrier Activity, Decisions, or Deliveries.

Americanmystique.com cannot claim responsibility for Carrier Delay due to weather and/or other causes.

It is the responsibility of the Customer and/or shipping recipient to insure a safe and secure shipment delivery address/site and is it not the responsibility of American Mystique to replace said article or product in case of loss due to misplacement or theft.

For any suspicious transaction, AmericanMystique.com retains the right to hold shipping for all items attached to said order until satisfaction or security is met. We can refuse service to anyone.
Third Party Carriers Domestic or International:
Purchases shipped within the Continental United States by original shipping carrier to a 3rd Party Shipping Carrier or Company, American Mystique considers the Package - "as Delivered in Full to the Customer" and a Fulfilled Transaction at that point.
SHIPPING INFORMATION - International & Canadian
Note - American Mystique & The Flight Deck do not Sale or promote the Selling of Customer Emails and other Customer Personal Information. Neither does Big Commerce or any of our Suppliers. We are committed to protecting your personal information. In regards to the EU''s GDPR, We only retain the information required by U.S. Tax Law, Minnesota State Tax Law, and U.S. Banking & Credit Card Law and Regulations. Such as partial transaction information and shipping information. If you have established an international "personal account" with us, and at some point would like it removed, we are happy to do so for you.
---------------------------------------------------------------------------------------------------------------------------------------------
American Mystique uses UPS Standard International Shipping for its European Market. Purchases are shipped to the Billing Address Only. For Most European Countries, Customers are charged a special UPS Express International Shipping Rate by the weight:
For 7 lbs = $74.00, 15 lbs = $92.00 Rates will vary according to country and location.
Canadian: Most items up to 7 lbs ship for $27 to $29 through out Canada. Though rates will vary some depending on location.
Expect Delivery once shipped (leaves Dock) in about one weeks time. Insurance and Signature Required Delivery are all ready in the shipping Fee. National Vat Fees are not included in the shipping fee and will have to be paid by the customer.
Using UPS marks the ability of the UPS System to insure a safe and firm Delivery to the Customer and the UPS Tracking System all through the shipping process.
______________________________________________________________________________________________________________________
*All Canadian and International Purchases or other payment transactions such as PayPal are required within the Shopping Cart provided by American Mystique. However, please note that all Vat Fees and/or other extra Taxes are owed at the time of delivery must be paid on or at Delivery.
American Mystique assumes no responsibility or financial liability for delivery failure, loss, theft, or any non-deliverable goods through any domestic or foreign delivery entity or service that does not allow a tracking number to track the delivery path and delivery to the customer.

Once any package of any value is out of the hands of the US Postal Service (USPS) or United Parcel Service (UPS) or FEDEX - all accountability and tracking is lost and out of our hands and the hands of our carriers. Once your purchase is turned over, submitted for delivery in your country, Your country's foreign Postal Service at that point becomes responsible for any and all lost or damage to any product you purchased. Again - once they take possession after going through Your Customs Department, it is their sole responsibility for delivery.

To Protect our International Customers and their Purchase, American Mystique only ships to the Billing Address, no exceptions. And we use UPS as our Standard Carrier.

Key Note: International Customers Need check first with their 3rd Party Shippers to learn if they will ship Leather Products such as Leather Jackets, Purses, Belts, or Leather Vests. Many 3rd Party Shipping Services refuse any and all Leather Products for shipment anywhere.
American Mystique refuses to use or allow a 3rd Party Shipper, as a Card Billing Address.

If the Customer, through any false action, or fraudulent statement or ruse, uses a 3rd Party Shipping Service as a "Credit Card Billing Address", the Sale will be cancelled if discovered and no product will be shipped.

If through fraud, if any Product Purchased is delivered by the Original Carrier's (such as UPS or FedEx) to the 3rd Party Carrier Service, all responsibility for delivery through American Mystique and its chosen Shipping Carrier has been fulfilled, and American Mystique has fulfilled its duty and responsibility. Possible Legal Action may be taken.

Responsibility in this manner falls totally on the 3rd Party Shipper as they provide a secondary or alternate billing address that is not a true billing address or residence of the actual customer.
American Mystique claims no responsibility for delivery of any purchase to the customer beyond the initial delivery to the 3rd Party Shipping Service. Any disputes between the customer and 3rd Party Shipper is the sole responsibility of the Customer and/or the 3rd Party Shipper Service and not American Mystique.
Since American Mystique has no control regarding the 3rd Party shipping Entity as used by the Customer in the form of a Secondary and Unsecured Billing Address, the Sale is Final and American Mystique's responsibility fulfilled and completed
An Noteworthy Real 3rd Party Shipping Service Example You need to Read:
Some 3rd Party Shipping Companies, such as "Shipito" or "EastBiz", Sister 3rd Party Shipping Services with International Customers are located within the United States, refuse to "Ship" or "Deliver" any Item that contains any Animal Product such as Leather or Fur under any circumstances.

This includes leather jackets, shoes, belts, gloves, coats, and any product that would contain whole or part animal skin or fur. American Mystique has received several complaints from International Customers who purchased a leather jacket and had it shipped to these two companies. Delivery by Shipito and EastBiz was denied to the "Customers" under company rules, which were somewhat vague.

This created a real problem for the International Customer as their purchase was delivered to a 3rd Party Shipper whose employees refused to handle the product once the package was opened. This meant their purchase was left open at the facility, exposed to possible theft or damage. Worse, the International Customers involved were not notified by Shipito or EastBiz of the failure of their own Delivery or the situation. Once they realized that delivery was not taking place, it was up to the International Customer to contact the 3rd Party Shipper and find out there was no way to reach any settlement or satisfaction.

So, we strongly recommend that if you have signed up with any 3rd Party Shipping Company, you check first on their shipping restrictions before you buy any leather product of any value.

If you have not, contact Your 3rd Party Shipper and ask Questions before you buy!
American Mystique assumes no responsibility or financial liability for delivery, loss, theft, or any non-deliverable goods through any and all Third (3rd) Party Shipping Carriers used, contracted or engaged by the Purchaser (Buyer).
Such action using a 3rd Party Shipping Address as your "billing address" will be considered by American Mystique as an International purchase and therefore no returns for any International or Canadian purchases.
Once any or all items or purchases are delivered to another 3rd Party Company or 3rd Party Shipping Company or additional Entity that intends to ship overseas or domestic, on behalf of the Purchaser, American Mystique considers the purchase or item fully delivered to the Customer at that point of delivery to the 3rd Party Address or 3rd Party Shipping Company.
There are No Returns once a 3rd Party Shipping Carrier or Service that is engaged by the Customer by their own transaction, to take possession of the shipped item or Purchase for additional shipment to any destination outside the Continental United States.

At that point, the Purchase or item bought is considered by American Mystique a "Completed and fulfilled Transaction" and the purchased item the full responsibility of the Purchaser.
To be safe and insure a proper delivery of your Purchase, American Mystique recommends that you purchase your shipping within our shopping cart. We do not recommend any third-party shipping or purchasing through a third-party.
International Orders will be shipped to the Billing Address Only.
We will ship to your billing address Only.

All Sales are Final, once Shipping takes place.

We will not ship to Motels, Hotels, or to Tarmacs or some alternate Business.
For Canadian Customers Only
All Purchases we suggest Canadian UPS Flat Ground Rate

Any other Canadian International Rates Apply as Received from UPS

All Canadian Orders will be shipped to the Billing Address only

Canadian Customers must pay Vat Fees before or at Delivery point

If not, Customer Account will be immediately charged for those Vat Fees.

Delivery will be UPS only

Choose Canadian Standard Ground or International Economy Rate

All Canadian Sales are final with no Return allowed.
When required AmericanMystique.com may have to have your order shipped to us before we can ship it to you. AmericanMystique.com also reserves the right to use a different carrier (FEDEX OR UPS) if required, or for Enhanced Expediency. Any increase in the Shipping Cost due to unseen requirements will be charged to the purchaser.
All International Sales are final. INTERNATIONAL CUSTOMERS - NO Returns or Exchanges, or Refunds, or Refund Adjustments for any International Sales, Transactions, Purchases, or Claims. All International Sales and Purchases thorough AmericanMystique.com are Final at the time of transaction. Some Orders may require a lead production manufacture time for that individual order from 2 to 5 weeks, pending of the type of product. If an International Order or Transaction cannot be delivered in 90 Days time, a Refund can be requested by Purchaser.
Note: Once a Product is assigned a shipping number or is in the process of shipping by the Carrier, no Refund can take place. At that time the Order and Transaction are both final.
AmericanMystique.com retains the right to refuse Service, Sale, or Shipping to any Party, Customer, Entity, or Enterprise, Foreign or Domestic, whose purchase seems or is deemed suspicious or fraudulent in any nature.
Regarding Customs Fees & Taxes:
Any Purchase or Shipment refused by the International Customer at the Destination Country is fully the Responsibility of that individual International Customer. There will be no refund upon denial of payment for All Vat Fees and other custom fees that may apply.
Remember, the Sale and Transaction for said product is final in every and all aspects.

Any and all Refusals on the International Customers part to Accept, and/or pay, and/or fulfill all Responsibility for any and/or all VAT, Duties, Taxes, Fees, etc. which may occur at the Destination Country, will result in the purchaser's complete forfeiture of any, and/or, all monetary refunds and/or monetary reimbursements for the refused merchandise, in addition to all shipping and handling fees attached to the transaction.

If American Mystique accepts in good faith any International Order and/or Purchase, and upon shipping that Order and/or Purchase in good faith, only to have the International Customer refuse and/or fail to accept delivery at the Destination country for any and/or all reasons, we regard that sale and delivery final.
NOTE CAREFULLY – For any International or Canadian Customers who do fail to pay or ignore their countries VAT, Duties, Taxes, Fees, etc, - that sale is final and no refund is granted.
---
Shipping USA/International
U.S. Veteran Owned & Operated.
American Mystique
Minnesota, United States

Call Toll Free: 800.328.9220
Ex. 1 for a Sales Representative
Email : info@americanmystique.com
Toll Free : 800-328-9220